PTFE Diaphragms for AODD Pumps
PTFE stands for Polytetrafluoroethylene, the chemical term for the polymer (CF2)n, it's a thermoplastic resin known for it's resistance to most fluids and chemicals. It can also reach high temperatures of up to 500°F (260°Celsius) and has excellent insulating properties. Which is why it is one of the top materials used in AODD (Air Operated Double Diaphragm) pumps.
Diaphragms are the two flexible seals between spaces that contain liquid and air which move back and forth, both drawing and expelling fluid through the pump. Being the separation wall between the medium being used and the pressure. Unlike a piston and rod seal, there is no drag leakage.
PTFE diaphragms are commonly used in metering devices or process systems within the pharmaceutical, food and beverage, industrial and paint industries.
Because of their outstanding properties, PTFE Diaphragms are much more cost-effective than most chemical resistant metals and the benefits mentioned make it yield great results. These include increased productions times, higher lifetime value, and cost savings in the long run.
Rebound PTFE Diaphragm Parts
At Rebound, we manufacture and supply replacement PTFE diaphragms for AODD pumps, but we don't stop there. We also maintain a large variety of o-rings, valve balls, and any other part that goes into the assembly.
We cover a wide range of AODD OEMs and models, and we have a rich selection of matching "backup" diaphragms made out of thermoplastic elastomers that are used together with the PTFE diaphragms. Even if we're missing something or if you need to get an old pump back to service, we can always create custom solutions to cover special needs.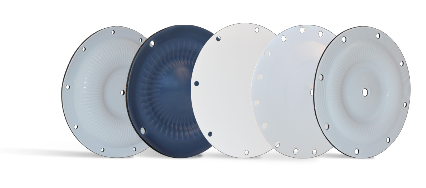 Why Choose Rebound
We are a reliable manufacturer and retailer of PTFE diaphragms as well as any AODD component or spare part. As such, we ensure that our parts are top-notch.
First, our PTFE diaphragms are stored in conditions that won't degrade their molecular stability and overall product quality. That would be away from risky material contacts, moisture, heat, radiation, pressure, or extremely low temperatures.
Thirdly, we pair PTFE diaphragms with truly matching secondary/backup diaphragms, and not just "something pretty close". Not using the absolutely correct size results in material fatigue and the premature failure of the part.
To learn more about our PTFE diaphragms and the other PTFE products we offer, contact us or request a free quote.
Wilden® is a registered trademark of the Wilden Pump Company
Warren Rupp (Sandpiper)®is a registered trademark of the Warren Rupp Company (IDEX Corp)
Yamada® is a registered trademark of the Yamada Corporation
Versa-Matic® is a registered Trademark of the Versa-Matic Pump Company (IDEX Corp)
ARO® is a registered trademark of the Ingersoll Rand Company
Viking Pump® is a registered Trademark of the IDEX Corp